REality check : Hope
Sept 8, 2020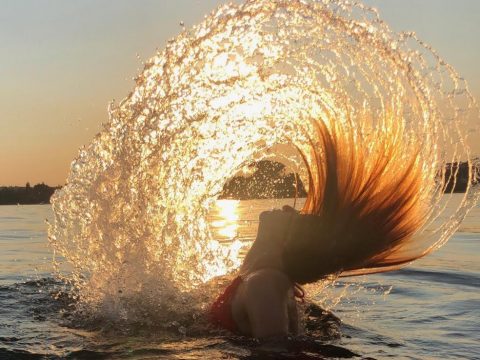 I love this picture.  In fact, I can't stop studying it.  My daughter Sydney took this picture of her sister Sky this past Friday night.  Our family took the boat out to Lake Washington; we anchored by the "Huskies" stadium and ate dinner, swam and watched the sun melt into the water ushering in Sabbath, ushering in hope.

Such amazing peace came over me.  Being with my family; just us enjoying one another's company, eating simply and indulging in the beautiful creation around us - allowing God's rest to enter into our souls, hearts and minds.   No anxious thoughts, no worries of what tomorrow would bring or uncertainty invaded my mind, just peace.  Justin said to me, "We should do this more often;" I agreed. 

Nahum was sent to give a message of coming judgement to Assyria but that same message was also a message of hope and peace to Judah.  Finally their great enemy was going to be destroyed; finally they could see an end to the pain, sadness and death; their hope was revived again! 

Jesus finds no joy in the destruction of the wicked, no delight in seeing people and nations reject Him.  Yet, He is a God of justice and He will not allow the deeds and actions of the rebellious wicked go unpunished.  Although it breaks His heart to lose anyone, He will do what He has promised to do. Evil will have its end and will be no more. Hallelujah!

So, though Nahum can seem like a prophet of doom and gloom, he is actually spreading hope.  Hope that one day soon the persecution, hardship and loss will be all over.

Where in your life are you seeing the hope instead of hardship?  Look for it, it is there. Maybe it's in a sunrise, sunset, in a word, in a gesture, maybe even in a picture. 

I pray that you will look to where Jesus is saying to you today, "I have you, yes there is trouble all around, but I am greater."

 I AM.  I am your peace, security, safety, your hope.