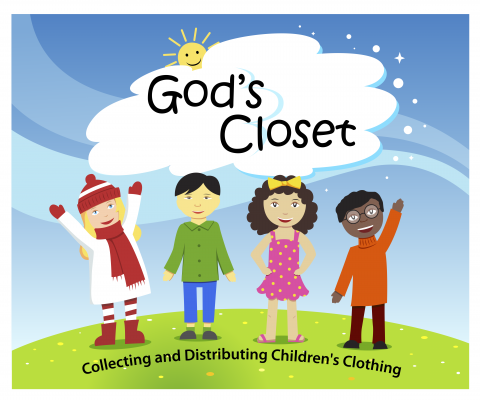 GOD'S CLOSET 
God's Closet is giving away FREE children's clothes!
We offer clothes for children newborn to teenager. All the clothes are FREE. 
It's very simple.
Simply show up at the Seventh-day Adventist Church (14118 Chain Lake Rd. in Monroe) on our FREE SHOP DAY (see calendar for upcoming events), pay $1 as an entrance fee (the $1 is per family, not per person) WE WILL PROVIDE YOU WITH THE SHOPPING BAGS, (no need to bring your own) and then YOU shop for FREE. Shopping at GC is similar to shopping at a regular store. For your convenience all clothes are sorted by size and gender.
We will be open from 3:00-5:00 pm ONLY (while supplies last!).
We do not ask for any type of documentation, so EVERYONE is welcome. All of our clothes are donated from area business, church families, schools and friends of the ministry. To support us please consider bringing your children's gently used clothes that they can longer wear. We will gladly take them off your hands! –Just please make sure they are clean and in new to gently used condition!
We will be offering FREE child care. Please see our CHILD CARE Event on our FB page for details.
IMPORTANT THINGS TO KNOW:
1.    Before each event we determine the amount of bags each family can receive. 
2.    The amount of bags per family is based on the amount of donations God's Closet receives.
3.    In fairness to everyone, and to ensure that each family leaves with the same amount of donations, bags ARE ALWAYS CHECKED AT THE EXIT.
4.    You are unable to pay extra to receive additional bags. 
5.    The amount of bags is not based on the amount of family members. Every family receives the same amount of bags.
6.    It's our desire that each family that shops at God's Closet leaves with donations!
7.    Please support us by being honest.
8.    Family members are not ALLOWED to shop for you. Remember… honesty is the best policy! AND if you abuse the system...you will break it.
For additional information please visit and "Like" our Facebook page: https://www.facebook.com/GodsClosetMonroe/
If you have any questions
You may contact us by:
PHONE: 360.391.8192
EMAIL: monroe@godscloset.com
We love receiving Facebook messages too!
Please share God's Closet with a friend!
Check the calendar for our next FREE SHOP DAY
Your God's Closet Team