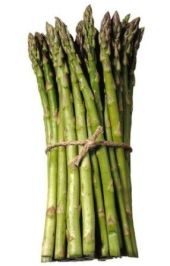 Cream of Asparagus Soup
Makes 7 1-cup servings
2 medium potatoes, scrubbed and chopped
2 cups water
1 bunch fresh asparagus
2 cups shredded cabbage
1 cup loosely packed chopped fresh parsley
1/4 cup chopped fresh basil
1 – 2 cup fortified unsweetened soy- or rice milk
3/4 teaspoon salt, or to taste
Place potatoes in a large pot with water. Bring to a simmer, then cover and cook until tender when pierced with a fork, about 10 minutes.
Remove tough ends from asparagus, then cut or break it into 1-inch lengths; you should have about 4 cups.
When potatoes are tender, add asparagus, along with cabbage, parsley, and basil. Cover and simmer until asparagus is just tender, about 5 minutes.
Use a blender to purée vegetables in 2 or 3 batches, adding some of the non-dairy milk to each batch. Be sure to start blender on a low speed and hold lid on tightly. Return soup to pan, add salt to taste, then heat until steamy.
Yellow Curry Lentils
Lentils are delicious and adaptable. If you cut the amount of broth in half, this stew can be transformed into a dip, which can then be served hot or cold. (Serves 4)
2 cups sliced oyster or white button mushrooms
1 yellow onion, diced
2 tablespoons yellow curry powder
1 tablespoon chopped garlic
8 cups vegetable broth, no salt added
2 cups yellow or red split lentils
2 cups baby arugula, lightly packed (optional)
Dry sauté the mushrooms, onion, curry powder, and garlic in a medium pot
over medium heat for 3 minutes. Add the broth and bring to a simmer.
Add the lentils and cook, stirring occasionally, until tender, about 20 minutes.
Stir in the arugula just before serving.
Quinoa and Arugula Salad
If you happen to have leftover quinoa in the fridge, this recipe is a great way to inject it with lots of flavor and moisture. (Serves 4)
4 cups cooked quinoa
4 cups arugula, lightly packed
1 cup shredded carrots
1 cup fresh basil, lightly packed
1 cup orange juice
Freshly ground black pepper (optional)
Put the quinoa, arugula, carrots, basil, and orange juice in a large bowl and
stir until well combined.  Season with pepper to taste if desired. Serve chilled or at room temperature.