VEG FEST WILL BE FABULOUS 
---
Vegfest, the largest vegetarian food festival in the country, will be held on March 30th & 31st at the Seattle Center Exhibition Hall on Mercer Street. We'll have over 500 different kinds of food to try. Don't have breakfast before you come!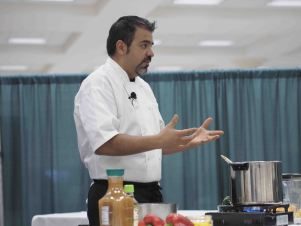 Look for some new companies at Vegfest this year as well as some old favorites. Just some of the new products this year include Forager, Good Planet Foods, Casabi, Auntie Saros, Cinnaholic, Enjoy Life Foods, Red Plate, Pan's Mushroom Jerky, Khalsa Salsa and even a little Black Magic, and too many more to list! Oh, and let's not forget Zazubean chocolate! You'll also find favorite brands like Field Roast, Daiya, Quorn, Litelife, Good Karma, Starlite and way more.
As always, we'll have exciting cookbook authors flying in from around the country to present cooking demonstrations. Chef Ramses Bravo will be demonstrating how a healthy vegetarian food can also be quick and easy to make with recipes from his latest book Bravo Express. Chef Michelle Schwegmann show you the delicious way to save the animals with recipes from her book Eat Like You Give a Damn. Compassion never tasted so good!
Chef Ellen Jaffe Jones, always a popular chef at Vegfest, will be showing how even if you're just cooking for one, you can easily make delicious plant-based meals, with recipes from her latest book Vegan for One. A thrifty vegan herself, she's also the author of Eat Vegan on $4 a Day. Get some tips on how to save money.  Rounding out our chef program will be Young Rhees, head chef at BopBox restaurant, showing us how to cook Modern Korean Cuisine, and the ever-popular Indian chef, Archana Verma.
Of course, we'll have a wide variety of doctors including internists, cardiologists, oncologists and even an OB/GYN  who will give talks about how a plant-based diet helps prevent and treat a wide variety of diseases. Our doctors know nutrition and love to answer questions!
Don't miss this year's Vegfest, March 30 & 31 at the Seattle Center Exhibition Hall on Mercer Street. Admission is only $12 and kids 12 and under given free. Tickets are available at the door. See SeattleVegfest.org for more information.
CHRONIC KIDNEY DISEASE TREATED BY PLANT-BASED DIET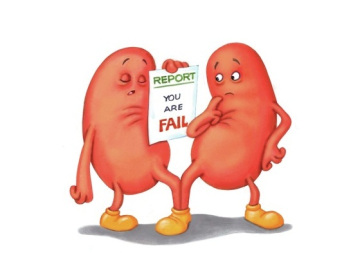 Here's the big news: a plant-based diet helps prevent and treat Chronic Kidney Disease (CKD). This is a big deal because CKD is the 8th leading cause of death in the United States and sucks up 20% of the Medicare budget.
Vegans and vegetarians have a greatly decreased risk of kidney disease. One study showed that vegan have better kidney function than meat eaters. This only makes sense since vegetarians and vegans have much lower rates high blood pressure and diabetes two of the leading risk factors for kidney disease. While this is news to many people and patients, the medical researchers have known this for a long time.
Other studies show that a plant-based diet slows the rate of decline for those who already have kidney disease. This means holding off the need for kidney dialysis.
Now protein in the diet causes extra work in the kidneys of kidney disease patients, but only when the protein source comes from meat, fish, poultry dairy and eggs. Plant proteins don't cause stress and this is one of the key advantages of a plant-based diet.
The kidneys have a vital role in keeping us healthy. They filter wastes products from the blood, keep our fluids in balance and help control our blood pressure. A plant-based diet gives the kidneys what they need to stay healthy all throughout our lives. As a bonus it also reduces the risk and treats other diseases such as heart disease, rheumatoid arthritis and prostate cancer just to mention a few.
Prescribing a plant-based diet to patients at risk of or already suffering from chronic kidney disease seems like a simple solution which would lower the costs and the suffering that so many patients experience. Unfortunately, most doctors are not yet aware of the power of a plant-based diet to prevent and treat kidney disease and so don't know to prescribe it to their patients. To help make doctors aware of this dietary option for preventing and treating chronic kidney disease, we wrote a detailed article addressing much of the research that has been done on this topic.  We're pleased to say that this article was recently published in the medical journal, JOJ Urology and Nephrology.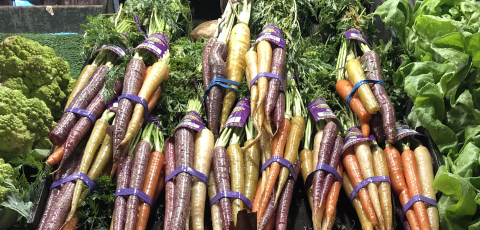 ​

HEALTHY RECIPES

YELLOW CURRY LENTILS

Lentils are delicious and adaptable. If you cut the amount of broth in half, this stew can be transformed into a dip, which can then be served hot or cold. (Serves 4)
2 cups sliced oyster or white button mushrooms
1 yellow onion, diced
2 tablespoons yellow curry powder
1 tablespoon chopped garlic
8 cups vegetable broth, no salt added
2 cups yellow or red split lentils
2 cups baby arugula, lightly packed (optional)
Dry sauté the mushrooms, onion, curry powder, and garlic in a medium pot
over medium heat for 3 minutes. Add the broth and bring to a simmer.
Add the lentils and cook, stirring occasionally, until tender, about 20 minutes.
Stir in the arugula just before serving.
QUINOA AND ARUGULA SALAD
If you happen to have leftover quinoa in the fridge, this recipe is a great way to inject it with lots of flavor and moisture. (Serves 4)
4 cups cooked quinoa
4 cups arugula, lightly packed
1 cup shredded carrots
1 cup fresh basil, lightly packed
1 cup orange juice
Freshly ground black pepper (optional)
Put the quinoa, arugula, carrots, basil, and orange juice in a large bowl and
stir until well combined.  Season with pepper to taste if desired. Serve chilled or at room temperature.