DIABETES – NOW YOU CAN DO SOMETHING ABOUT IT
---

Plant foods are powerful medicine for diabetes (Type II or Adult Onset). Medical researchers have discovered that a plant based diet is very effective for both preventing and helping to reverse diabetes and pre-diabetes. In some cases it's even more powerful than drugs.
It's a good thing too. America needs strong medicine when it comes to pre-diabetes and diabetes. With 11 percent of people over  the age of 20 having diabetes, plus 23 percent with pre-diabetes, over a third of the country either has diabetes or is on their way to getting it. As if diabetes itself wasn't bad enough, the complications can be even worse. Diabetes raises the risk of other health problems, ranging from heart disease to kidney damage, to blindness.
But now for the good news. You can reduce your risk of getting diabetes by just taking the following medicines: vegetables, fruits, whole grains, beans and nuts. The more you take, the more protection you can get. For instance, researchers found that those following semi-vegetarian diets, pesco vegetarian, lacto ovo-vegetarian, and vegan diets, reduced their risk of diabetes by 28%, 51%, 61% and 72% respectively. The pattern here is clear: the more plant foods you eat, the more protection you get. Vegetarians also had the best scores for the seven major risk factors for pre-diabetes.
What about if you already have diabetes? Even here plant foods are powerful medicine. In one study, conducted at George Washington University, 46% of diabetics were able to stop or significantly reduce their medications in only 6 months. Even more impressive is how the powerful plant-based diet reduced blood sugar by about 25% more than the usual treatment – the drug metformin combined with the standard American Diabetes Association diet. Washington state physician Gregory Scribner MD, an internist specializing in diabetes, tells his patients, "A switch to a healthy vegetarian diet can reverse many of the complications of diabetes, even in advanced cases, and can often prevent the disease from occurring in the first place."
It turns out that plant-based diets can even help with some of the most difficult to treat complications, such as the painful peripheral neuropathy that diabetics can get which causes pain in the extremities. For instance, in one study, 81% of those following a low fat, high fiber, vegan diet had very significant improvements in only one month.  These research studies seem to translate well into the community. For instance one man, who attended one of our free Vegetarian Solution classes a couple of years ago, decided to give a vegetarian diet a try to help his diabetes symptoms.  Within a couple of months he was delighted to find his neuropathy pain had abated.  He came back to our next class to learn more and to tell us about how it had helped him.
The message is clear – vegetarian, and especially vegan, diets are powerful medicines when it comes to diabetes.
HEALTHY RECIPES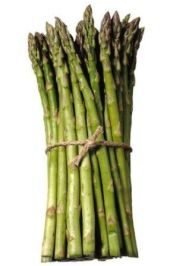 Cream of Asparagus Soup
Makes 7 1-cup servings
2 medium potatoes, scrubbed and chopped
2 cups water
1 bunch fresh asparagus
2 cups shredded cabbage
1 cup loosely packed chopped fresh parsley
1/4 cup chopped fresh basil
1 – 2 cup fortified unsweetened soy- or rice milk
3/4 teaspoon salt, or to taste
Place potatoes in a large pot with water. Bring to a simmer, then cover and cook until tender when pierced with a fork, about 10 minutes.
Remove tough ends from asparagus, then cut or break it into 1-inch lengths; you should have about 4 cups.
When potatoes are tender, add asparagus, along with cabbage, parsley, and basil. Cover and simmer until asparagus is just tender, about 5 minutes.
Use a blender to purée vegetables in 2 or 3 batches, adding some of the non-dairy milk to each batch. Be sure to start blender on a low speed and hold lid on tightly. Return soup to pan, add salt to taste, then heat until steamy.